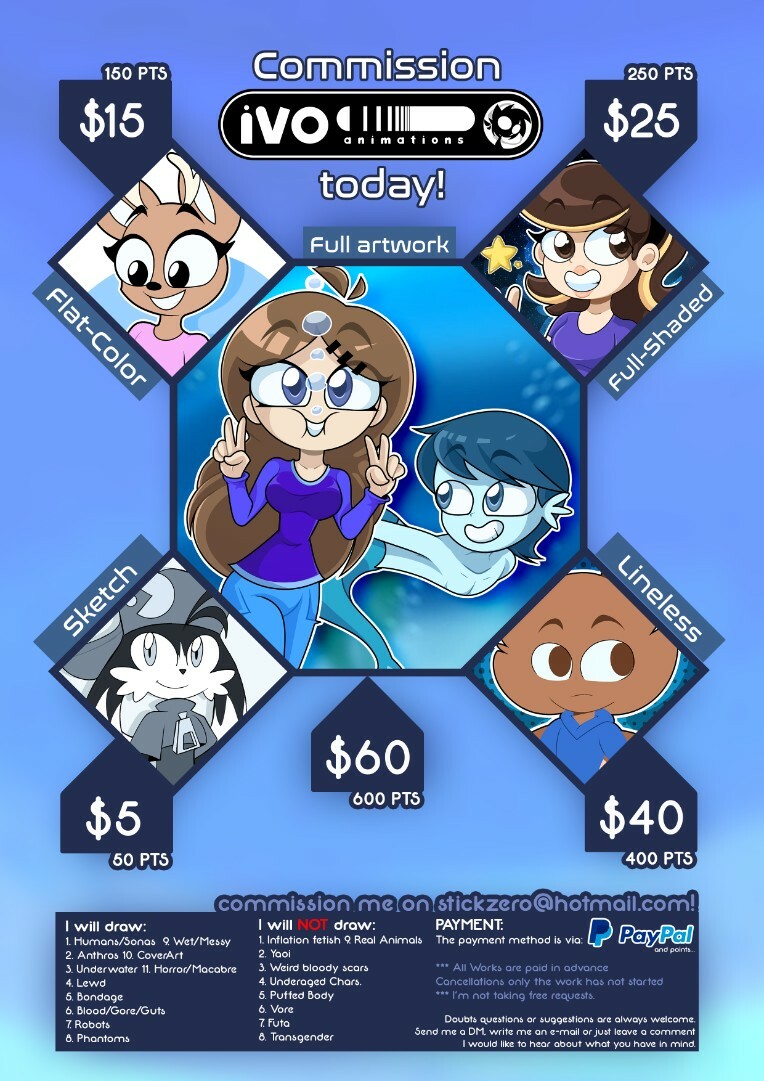 All prices are in USD (points are accepted)
I updated my commission sheet "again", and i like to do some a little art commission if ya want to commish me. :3
It's always open! :3
here are the guides again:
1) First come, First serve!
2) For online commissions, I accept PayPal & points
3) I can draw in a cartoony style or semi-anime style, but not a fully anime or realistic style.
4) I have the right to deny the commish to draw anything that i will NOT draw.
5) I can accept movie/video-game/cartoon character commissions, as long they're not recolored and shit.
6) I can accept Anime OVA/TV Series characters, as long as they're not overly complicated.
7) Do not claim the artwork as yours. (That cause stealing, please don't.)
8) Don't fucking rush me! (i hate that...)
9) My watermark will be on your commission but DON'T remove it.
10) DON'T be offended or mad if i don't choose yours.
11) If you want to use my artwork, please credit me! (don't be afraid)
12) I will upload your commission here and my other pages. (NSFW is welcome)
13) I will do a album cover commission (ask me please!)
14) If you have any questions, please DM me.
Here are some alternative prices:
-CHIBI STYLE - USD $50
-PIXEL/SPRITES - USD $25
-ICON - USD $10
-EXTRA CHARACTER - USD $5
PayPal email: stickzero@hotmail.com