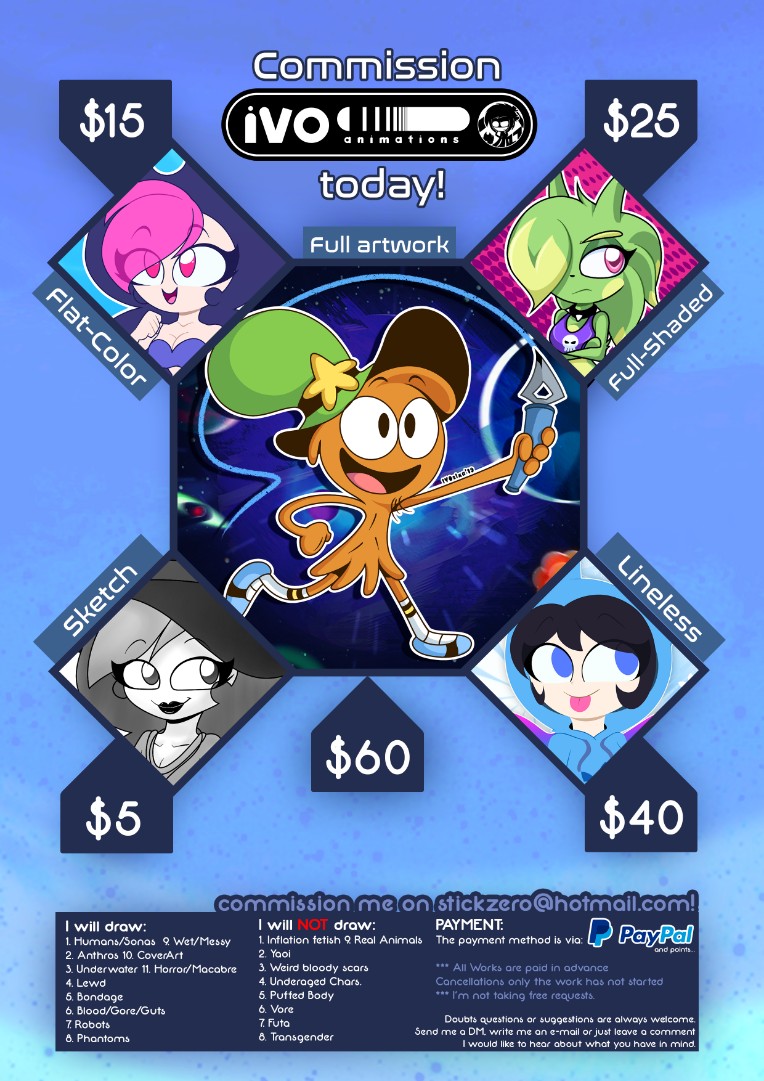 i decided to open commissions so i'll be putting it on the journal so imma open up commissions "forever" now, well... i kinda got my first commission from TJackKnife, so i'm thinking that before, i can open commissions for everyone to be welcome for, and so i really appreciate that, so i hope anyone commish me, maybe... anyway... if you want commissions, read the rules/guidelines in order i can do your commission for your but i can accept it if i want to but i have the right to deny.
.:RULES/GUIDELINES:.
1) You can be a watcher if you'd like :3
2) For online commissions, I only accept PayPal, or points (on deviantART)
3) I can draw in a cartoony style or semi-anime style, but not a fully anime or realistic style.
4) I have the right to deny the commish to draw anything that i will NOT draw.
5) I can accept movie/video-game/cartoon character commissions, as long they're not recolored and shit.
6) I can accept Anime OVA/TV Series characters, as long as they're not overly complicated.
7) First come, First serve!
8) You can share the journal in your status/journal/poll (if it's okay with you.)
9) If you have any questions, please DM me.
10) Don't fucking rush me! (i hate that...)
11) My watermark will be on your commission but DON'T remove it.
12) DON'T be offended or mad if i don't choose yours.
13) If you want to use my artwork, please credit me! (don't be afraid) 
14) I will upload your commission here and my other pages. (NSFW is welcome)
15) I will do a album cover commission (ask me please!)
.:I WILL DRAW:.
- OCs
- Fan Arts
- NSFW (like Nudity/Hentai/Porn)
- Fetishes (farts and bondage only)
- Fan Character (if you have one.)
- Underwater Stuff (cuz i feel like drawing those, maybe...)
- Anthros (I'm comfortable drawing those)
- Comic (no more than 4 panels)
- Demons (I ONLY draw "Shadow Demons" like 2Dark & ELSpurgo (Aggrotard) demon style.)
- Blood/Gore/Guts
.:I WILL NOT DRAW:.
- Inflations (Boob inflations is okay if you want.)
- Vore (I don't think that's okay with me, i don't know...)
- Futa (I don't draw female with dicks.)
- Scat (I don't draw shit/poop)
- Robots
- Aliens
- Vehicles
- Animals (because i suck at them...)
and also I DO NOT DO REFUNDS... so don't ask for money back...
.:COMMISSION PRICES:.
-FULL ARTWORK - $60 USD
-LINELESS - $40 USD
-FULL SHADED - $25 USD
-FLAT COLOR - $15 USD
-SKETCH - $5 USD
.:ALTERNATIVE COMMISSION PRICES:.
-CHIBI STYLE - $50 USD
-CHARACTER REFERENCE SHEET - $25 USD
-ICON - $10 USD
-EXTRA CHARACTER - $5 USD
To commission me:: direct message me, comment down below, or email me on "stickzero@hotmail.com"
I'LL HAVE TO REMIND YOU THIS:: I may not do every commissions every day because i have a lot of animating and drawing to do in the future, but don't you worry, i'll add you on the list if i can accept it but it might take a while but I'll decide to draw them by the moment.
And that is it!!! i hope you have fun commissioning me!!!